BPO sector goes online to promote the industry to the world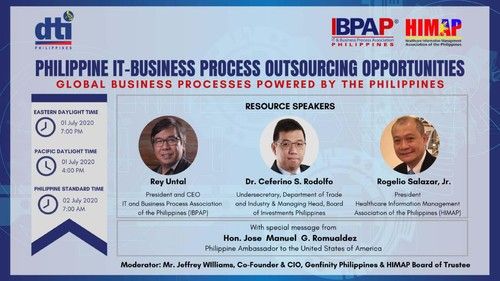 IT & Business Process Association of the Philippines (IBPAP) President Rey Untal said that the business process outsourcing (BPO) industry is going online to promote the industry to the world amid the COVID-19 pandemic.
In the IT-BPM webinar titled "Philippine IT-Business Outsourcing Opportunities: Global Business Processes Powered by the Philippines," organized by the Department of Trade and Industry with the Philippine embassy in Washington, Untal said the industry is poised to continue to grow.
Untal stated that by June 2020, the BPO industry is already running at 85 per cent capacity, which is "really a great testament to our resilience in the face of pandemic." He added that as the country starts to normalize, the organization is coordinating with the government to address some gaps in public transportation.
Watch the replay video here and get the speakers' presentation slides here.