Next BPO Solutions wins Most Innovative Company in Davao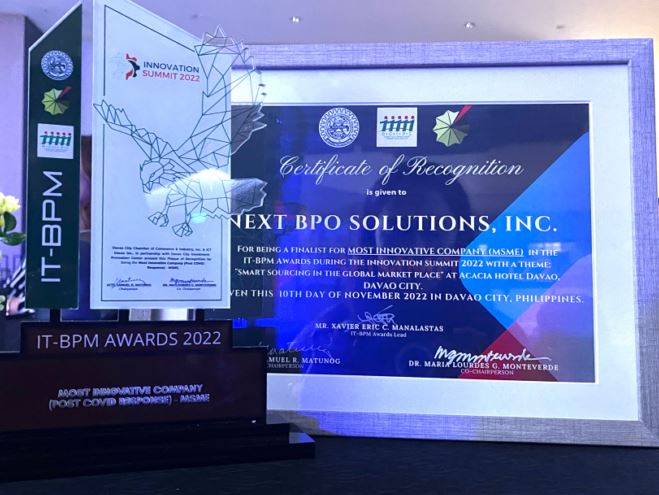 DAVAO CITY, PHILIPPINES — Local groups have recognized Business Process Outsourcing (BPO) company Next BPO Solutions's resiliency during the pandemic.
During the first Davao City IT-BPM Awards, Next BPO Solutions was hailed as the Most Innovative Company (Post-COVID Response) for MSME.
The event was organized by the Davao City Chamber of Commerce and Industry and ICT Davao, Inc., with the sponsorship of the Davao City Investment Promotion Center.
Next BPO Solutions, which has been serving various countries for 13 years, continued its operation despite the global and economic threat of the pandemic.
The company was also selected as a finalist in other categories: Fastest Growing MSME, Best in Employee Engagement, Barani Award – Best in COVID Response, and Best Community Impact.
Benjamin Galedo, Next BPO Solutions operations manager, stated that receiving the award proves how effectively and efficiently they have worked as a team.
"Despite the impact of this pandemic, the team's dedication and commitment to work around it allowed us to power through. The policies and projects implementations wouldn't have been successful without the collaboration and cooperation of each and every Nexter", Galedo added.
Next BPO Solutions is a Davao-based outsourcing firm that provides offshore staffing solutions for clients' various technical and administrative support. The firm is listed in Outsource Accelerator's (OA) Global Outsourcing Firm (BPO) Index, a vital tool in assisting the BPO decision-making community with a broad but objective industry assessment.
It is also subscribed to the OA Source Partner Program, a powerful tool that helps BPO firms with marketing, sales, and business intelligence.