Online writing, content creation top freelance growth amid AI boom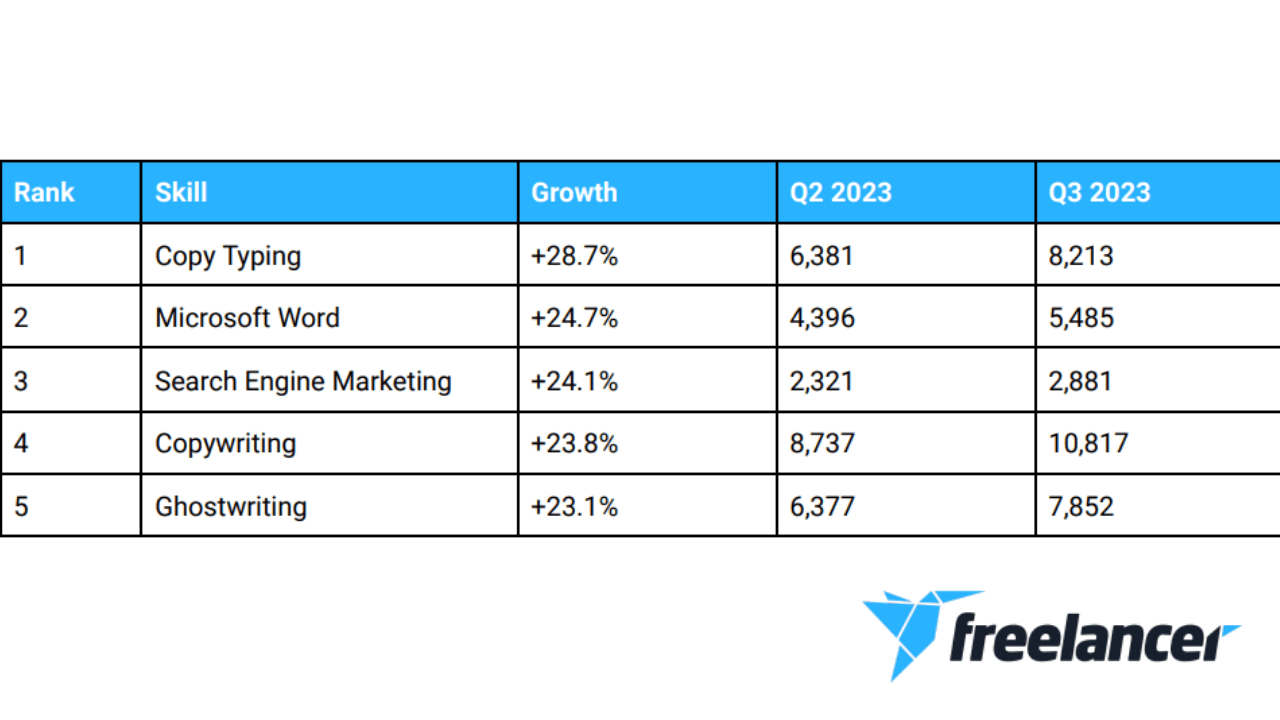 Photo from Freelancer.com
CALIFORNIA, UNITED STATES — The rise of artificial intelligence (AI) has sparked significant growth in demand for human writing and creative skills, according to new data from online freelancing platform Freelancer.com.
The company's Q3 2023 data, compiled from 277,000 job postings, revealed "copy typing" and "Microsoft Word" as the top two fastest-growing freelance skills, rising 28.7% and 24.8% respectively. Other in-demand skills were search engine marketing (24.1%), copywriting (23.8%), and ghostwriting (23.1%)
"Artificial intelligence is powering a boom in content creation, particularly focusing on writing, marketing and video production skills," said Matt Barrie, CEO at Freelancer.com.
"Generative AI is superskilling freelancers and their ability to produce extremely high-quality content faster than ever before."
Freelancer Gabrielle Gerbus leverages AI tools like ChatGPT in her copywriting business but she tells CNBC that "high volumes of AI-generated content isn't the end-all-be-all, it needs a human touch".
The data aligns with Q2 2023 trends showing creative writing as the fastest growing skill, up 58%. Jobs for user interface design, Twitter marketing, photography, and Microsoft Word writing also saw major increases.
Video production and marketing-related skills like search engine marketing and social media marketing grew exponentially year-over-year.
However, programming jobs requiring skills like MATLAB, AngularJS, and Python declined.
Freelancer.com says while writing jobs continue to flourish over the past 6 months, there is a need to understand how generative AI will impact jobs and various freelancing skills.
"Those in white collar jobs will need to move 'up the stack'. Illustrators become cinematographers. Writers become editors. Software developers become product managers. Grad students now run a research group," Barrie said in an essay.
Freelancer.com, founded in 2009, is a freelance services marketplace connecting over 50 million employers and freelancers worldwide across 247 countries.