DOH releases first workplace handbook on COVID-19 management, prevention
Posted on October 7, 2020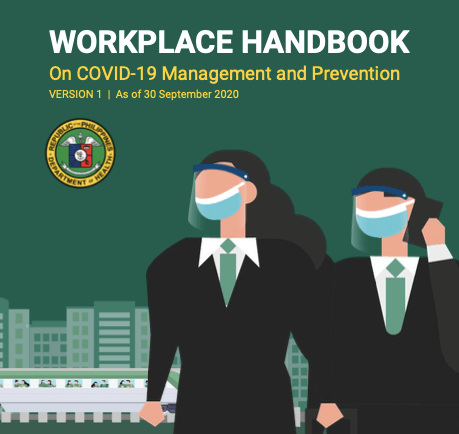 The Department of Health (DOH) today released the first version of its workplace handbook on COVID-19 management and prevention. The 99-page manual contains essential information on how to manage and prevent the transmission of the coronavirus disease in the workplace.
The manual discusses rules on detection, testing, isolation, and tracing. It also contains COVID-19 good practices for a safe work environment for different industries like manufacturing, banking and finance, construction, and Business Process Outsourcing (BPO).
The health department said the handbook was created together with the Department of Labor and Employment (DOLE), Department of Trade and Industry (DTI), the World Health Organization (WHO), and stakeholders from the different medical societies in the Philippines.
"This hopes to provide proper guidance and appropriate information to all Occupational Safety and Health (OSH) Committees and other key stakeholders to ensure that Filipino employees and workers everywhere in the country know how to protect themselves, their colleagues, and families from the threat of COVID-19," the DOH said.
The manual can be downloaded here.