Payoneer, KMC Solutions to spotlight LGBTQIA+ BPO leaders in PH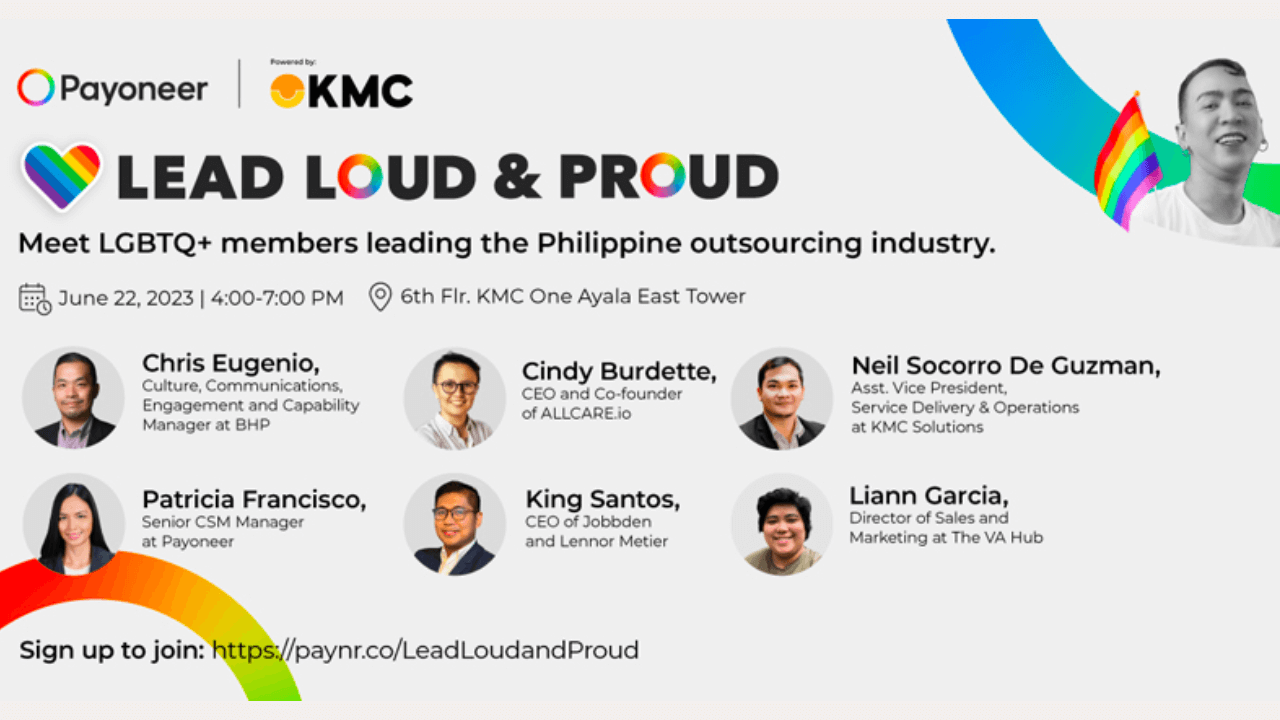 Photo from Payoneer
MANILA, PHILIPPINES — In honor of Pride Month, global payment platform Payoneer and Business Process Outsourcing (BPO) provider KMC Solutions will host an event that shines a light on LGBTQIA+ entrepreneurs in the Philippine outsourcing industry.
The event, "Lead Loud and Proud: Meet LGBTQ+ Members Leading the Philippine Outsourcing Industry," will occur on June 22 at KMC One Ayala.
Powered by KMC Solutions, the celebration forms part of Payoneer's commitment to fostering diversity and inclusion in the outsourcing sector and providing equal opportunities for customers regardless of gender identity or sexual orientation.
Monique Avila, Payoneer's Country Manager, expressed her excitement for the event, emphasizing Payoneer's belief in promoting equal opportunities and celebrating LGBTQIA+ successes in the industry.
The event will feature a series of inspiring stories from LGBTQIA+ leaders in the industry, including Chris Eugenio, a board member of PFIP and Culture, Communications, Engagement, and Capability Manager at BHP.
Two-panel discussions focusing on the journeys of LGBTQIA+ leaders and the importance of diversity and inclusion in companies will also take place.
Avila concluded by highlighting Payoneer's honor in showcasing the contributions of the LGBTQIA+ sector to the outsourcing industry, and its commitment to providing opportunities for boundless growth for aspiring LGBTQIA+ entrepreneurs.
KMC Solutions was recently listed in the Time Doctor OA500, the first objective index of the world's top 500 outsourcing companies. It is also currently subscribed to the Outsource Accelerator (OA) Source Partner Program, a powerful tool that helps BPO firms with marketing, sales, and business intelligence.