Remote work solidifies in San Diego, survey finds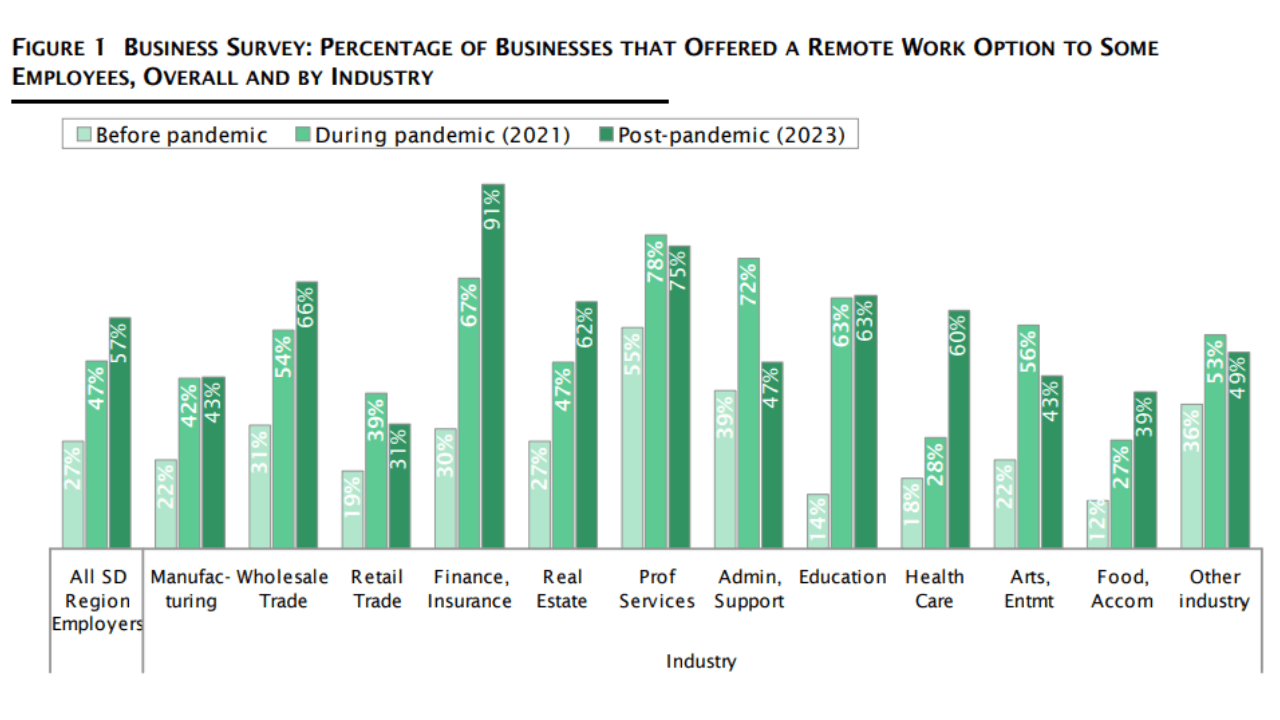 Photo from San Diego Association of Governments (SANDAG)
CALIFORNIA, UNITED STATES — A new report reveals that remote and hybrid work arrangements have become widely accepted in San Diego County's business landscape, representing a major shift from pre-pandemic norms.
The 2023 survey by the San Diego Association of Governments (SANDAG) found 57% of businesses now offer remote work options, a significant increase from 27% before the pandemic.
The responses from 627 businesses and 1,100 employees indicate these flexible policies are here to stay, reflecting broader recognition of telecommuting benefits.
Cindy Burke, SANDAG's senior director of data science, notes employers have pivoted from skepticism in 2021 towards enthusiasm about remote work's positive impacts.
"They're now much more open to it," Burke said, after seeing benefits like improved employee morale (62%), talent retention (62%), and cost savings (58%).
Supporting this outlook, Phil Blair of staffing firm Manpower has adapted their model, now providing midweek in-office days with free lunches.
"Hybrid is here to stay," Blair said. "I tell our customers and our prospects — Don't fight it if it can be done. You need to find a way to do at least a day a week (remote) and give them that option."
The tech sector has also embraced flexibility. William Rhein of software company ticktBox reports no productivity declines from remote work while lauding the lifestyle benefits.
"I still love it. It's been our lifestyle for the past few years, and I just couldn't imagine commuting every day," Rhein said.
Even Aya Healthcare, a health staffing agency, plans to maintain its expansive telecommuting policy, says Chief People Officer Amber Zeeb.
As hybrid and remote policies persist, the survey shows companies increasingly downsizing physical offices, terminating leases, and transforming workplace culture.
Previous studies revealed that flexible work hours can produce better results, increase employee retention and improve work culture, but an expert warns that embracing this type of work may hinder Gen Z employees from becoming CEOs.