Renewable energy jobs surge globally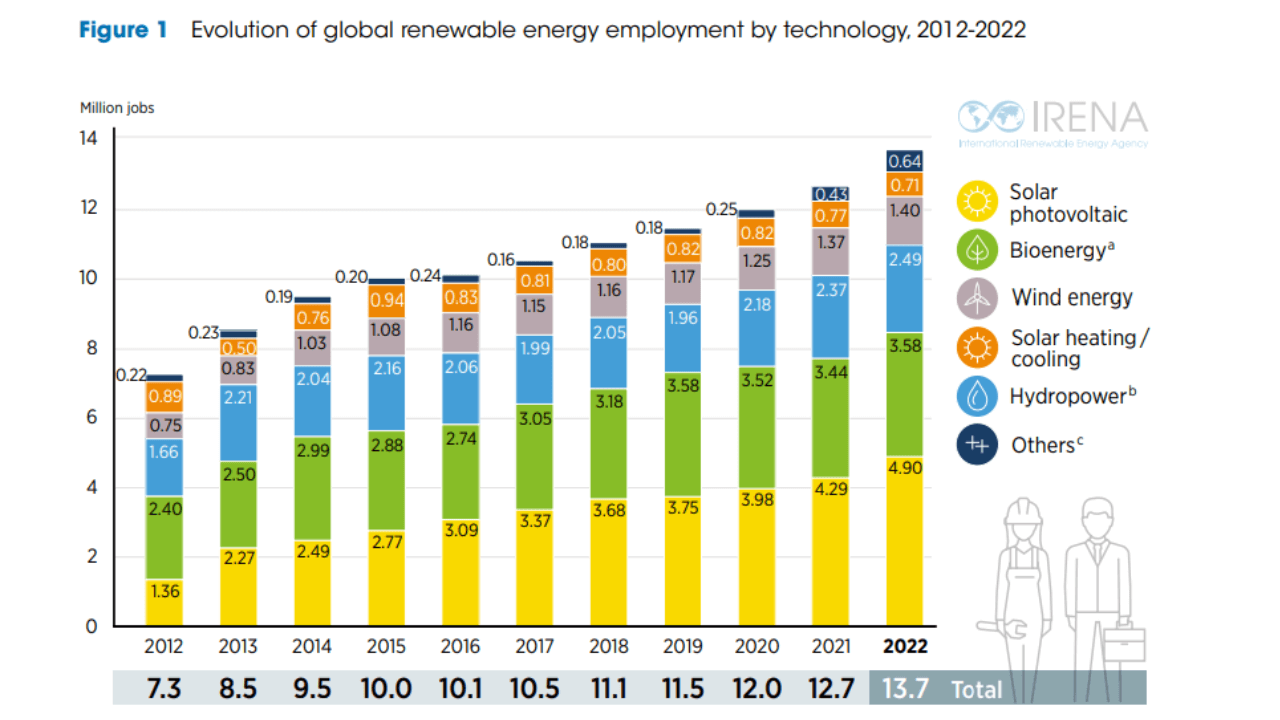 Photo from International Renewable Energy Agency (IRENA)
ABU DHABI, UNITED ARAB EMIRATES and GENEVA, SWITZERLAND — The International Renewable Energy Agency (IRENA) and the International Labour Organization (ILO) reported significant growth in global renewable energy jobs in 2022.
The renewable energy sector employed 13.7 million individuals, an increase of one million since 2021 and nearly double the 7.3 million jobs in 2012.
The Renewable Energy and Jobs: Annual Review 2023 highlights major investments in renewable energy as a key driver of employment creation across numerous countries.
China remains the dominant force, holding 41% of all renewable energy jobs worldwide. Brazil, the European Union, India, and the United States are also major players, heavily involved in equipment manufacturing and engineering services.
The solar photovoltaics (PV) industry is the top employer within the sector, comprising over a third of the total renewable workforce with 4.9 million jobs. Hydropower and biofuels maintained around 2.5 million jobs each, while wind power supported 1.4 million.
"Creating many more millions of jobs will require a much faster pace of investments in energy transition technologies… I call on all policy makers to use this momentum as an opportunity to adopt ambitious policies that drive the needed systemic change," said Francesco La Camera, IRENA Director-General.
ILO Director-General Gilbert F. Houngbo also suggested implementing inclusive policies focused on sustainable enterprises, skills development, and labor rights to maximize the employment potential of this rapidly growing sector.
The report stresses the need for greater gender equity as renewable energy jobs remain unequally distributed between men and women. It also calls for just transitions that provide fair wages, safety, rights, and opportunities for underrepresented groups like women and youth.