POGOs are not BPOs, says IBPAP
Last updated: May 6, 2020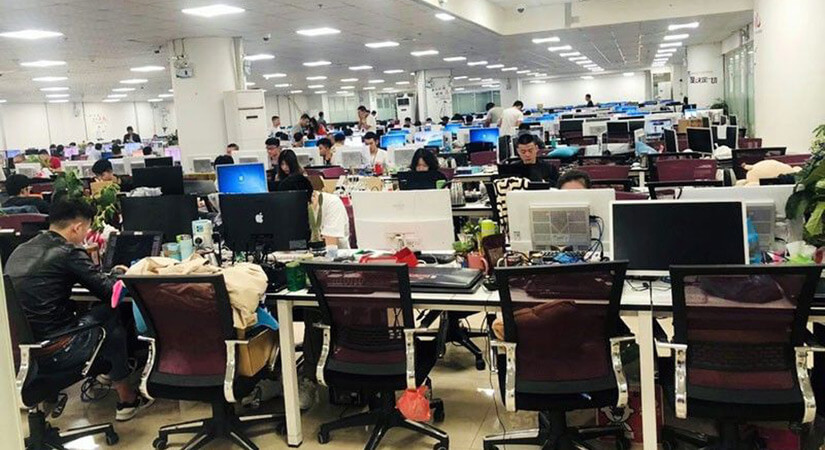 A debate raged this week over whether the unpopular POGOs (Philippine Offshore Gaming Operators) should be classified the same as BPOs.
The IT and Business Process Association of the Philippines (IBPAP) opposes presidential spokesperson Harry Roque's claims that the Philippine Offshore Gaming Operators are considered part of the BPO industry, saying "POGOs cannot be considered as BPO."
Rey Untal, the President of IBPAP abruptly responded to the allegation, denying any alignment between the two industries.  In a statement, they listed four "key differences" between BPOs and POGOs nature of business. The group says that while both types of business are into offshoring, POGOs "primarily do so because they are allegedly unable to practice their betting or gambling functions in their respective shore."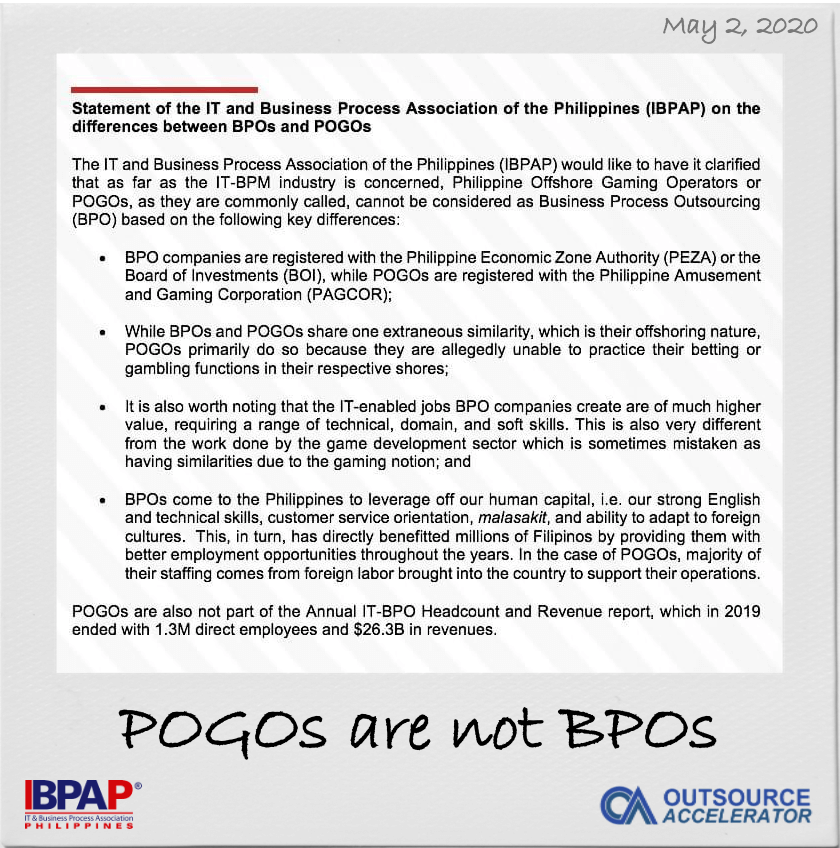 POGOs are not BPOs – four key differences
IBPAP, the outsourcing industry's trade association which has over 300 members, outlined the four key differences between POGOs and BPO companies.
BPO companies are registered with the Philippine Economic Zone Authority or the Board of Investments, while POGOs are registered with the Philippine Amusement and Gaming Corporation (Pagcor).
While BPOs and POGOs share one extraneous similarity, which is their offshoring nature, POGOs primarily do so because they are allegedly unable to practice their betting or gambling functions in their respective shores.
IT-enabled jobs BPO companies create are of much higher value, requiring a range of technical, domain, and soft skills. This is also very different from the work done by the game development sector which is sometimes mistaken as having similarities due to the gaming notion.
BPOs come to the Philippines to leverage off the Philippines' human capital, like strong English and technical skills, customer service orientation, malasakit (compassion), and ability to adapt to foreign cultures. This, in turn, has directly benefitted millions of Filipinos by providing them with better employment opportunities throughout the years.
"In the case of POGOs, majority of their staffing comes from foreign labor brought into the country to support their operations," IBPAP said.
IBPAP went on to say that POGOs are not part of the annual IT-BPO headcount and revenue report, which in 2019 ended with 1.3 million direct employees and $26.3 billion in revenues.
The group emphasized that outsourcing and BPOs create "higher value jobs" and that they invest in Filipino workers, while POGOs mostly employ foreign nationals.
POGOs
are

BPOs – Malacañang Palace insists

Presidential spokesperson Harry Roque – the instigator of the comparison debate – shot back at IBPAP's argument on May 4th, insisting that POGOs are a part of the BPO industry.  Roque added that it was not the place of IBPAP to determine what constituted a BPO.